Branding is both a tangibility and a whisper – it's the tangible design that lingers in your eyes and the intangible sentiment that nestles in your heart. For the BC Wine Industry, the magic lies in the perfect amalgamation of visuals, values, and voice. To understand more, consider diving into BC's wine facts and figures. Let's journey through how to design brands, logos, and websites that resonate and reverberate.
The Essence of Branding
Rooted in Culture: Wine is so much more than just a drink; it's a story, a legacy. For British Columbia, it's essential to have a clear and relevant local cultural point of reference. Understand the terroir and imbue it in your brand.
Value Proposition: What sets your wine apart? Is it the aroma, the taste, or the historical lineage? The story is your unique selling point. Delve deeper with BC's wine history.
Brand Assets and Guidelines: Remember, consistency is king. You need a well-documented and easy-to-follow brand guide. A robust framework ensures uniformity across channels.
Naming Challenges: Stuck on a name? Consider creating a word that never existed and turn it into a noun. It's not only unique but also efficient for securing .com URLs and matching social media @usernames.
The Logo Magic
Your logo is often the first impression. It should be:
Unique: A logo that mirrors another is a lost opportunity. Create something distinct.
Versatile: Your logo should look as breathtaking on a business card as it does on a billboard. Check out the impressive brands showcased at BC Wine Lover.
Emotion-Driven: It should evoke emotions, curiosity, or intrigue in the consumer.
Adaptable: Nowadays, having logo variants for different backgrounds and materials isn't just optional; it's imperative.
Website Wonders
In today's digital age, a winery's website is its digital vineyard. If you need inspiration, visit the engaging BC Wine Country site. It should be:
Inclusive: Cater to both the wine newbie and the connoisseur. Include multi-language features to be truly global.
Mobile-Optimized: Speed and compatibility across browsers and operating systems are non-negotiable.
SEO Ready: From voice command retrieval to proximity SEO, ensure you're discoverable. Integrating map apps and reviews, like on BC Liquor Stores, could enhance the user experience.
The Marketing Blend
Plan and Pivot: Chart out a marketing plan, but be flexible enough to capitalize on trends. Stay informed with stats and regulations from UBC's wine guide.
Speak Your Truth: While it's good to adapt, never lose your unique voice and tone.
Personalize: Whether through exclusive offers, bundles, or a monthly subscription model, personalization is the key to winning hearts (and wallets).
BC's Wine Tapestry
Dive deep into the nuances of the BC Wine industry with these curated resources:
Final Note
Is your winery ready to create a lasting impression? Let Bl3nd Design Agency be the artist behind your canvas. From branding to marketing, our expertise ensures your wine doesn't just taste good but feels memorable. Dive into academic insights from SFU to bolster your approach.
Contact us and let's embark on this journey together. Cheers to crafting stories, one wine bottle at a time!! 🍷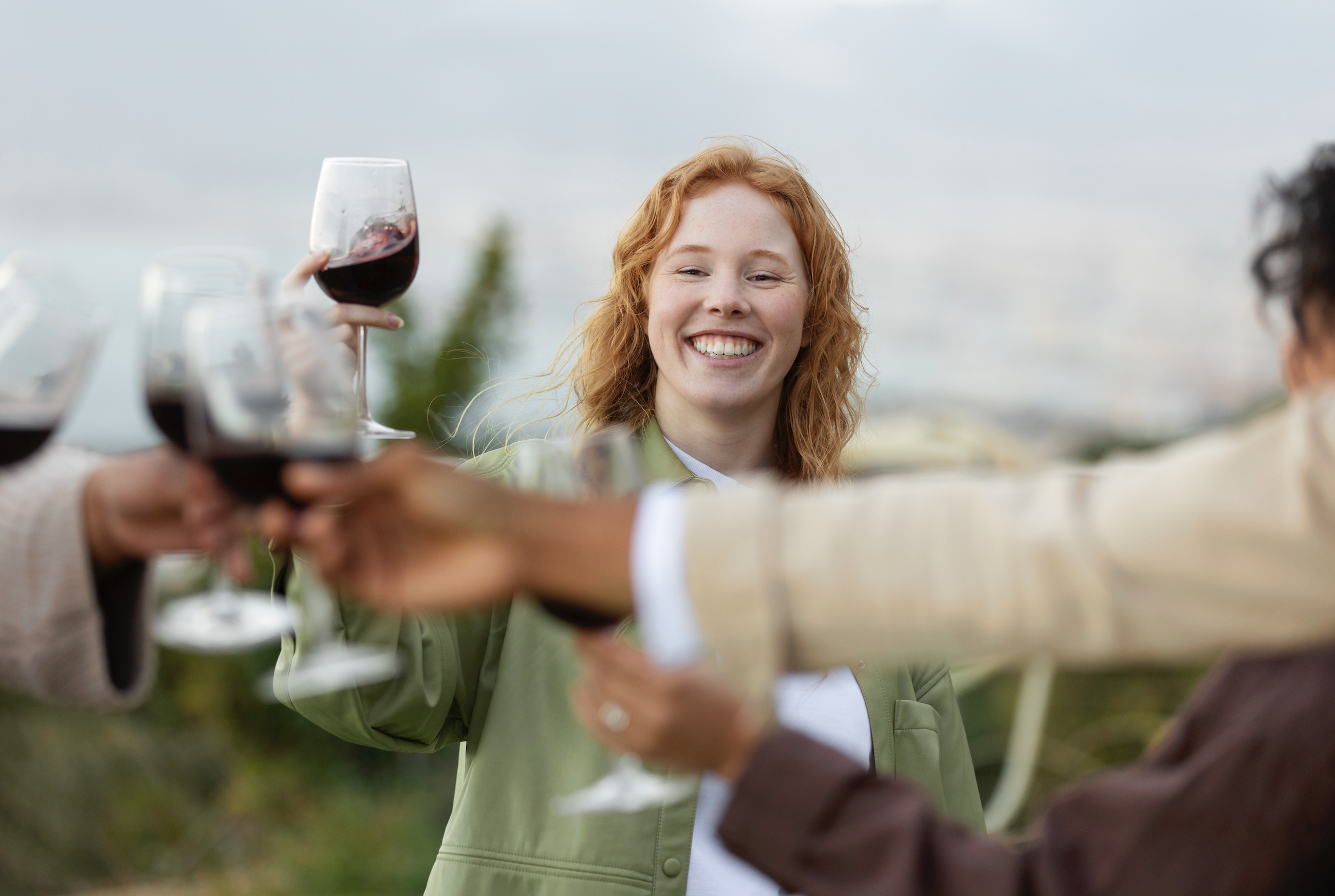 Terroir Tales: The Distinct Wine Regions of British Columbia
Okanagan Valley: The Heartbeat of BC Wines
Geography: Spanning from Osoyoos at the US border to Vernon in the north, nestled between two mountain ranges.
Sub-regions (or sub-GIs):

East Kelowna Slopes
Golden Mile Bench
Golden Mile Slopes
Lake Country
Okanagan Falls
Naramata Bench
Skaha Bench
South Kelowna Slopes
Summerland Bench
Summerland Lakefront
Summerland Valleys

Climate: Hot summers and mild winters.
Key Varieties:

Reds: Merlot, Cabernet Sauvignon
Whites: Chardonnay, Gewürztraminer

Spotlight: Diverse microclimates; vineyards near Osoyoos are some of BC's oldest. Each sub-GI offers its unique terroir, allowing for a vast range of flavors throughout the Okanagan Valley.
Similkameen Valley: Nature's Organic Cradle
Geography: Parallel to Okanagan with rugged mountains and the Similkameen River.
Climate: Hot days and cool nights.
Key Varieties:

Reds: Merlot, Cabernet Franc
Whites: Chardonnay, Riesling

Spotlight: Terroir-driven wines due to mineral-rich soil; prominence of organic and biodynamic farming.
Fraser Valley: Where Urban Meets Vineyard
Geography: Close to Vancouver.
Climate: Maritime; wet winters and moderate summers.
Key Varieties:

Reds: Pinot Noir, Cabernet Franc
Whites: Bacchus, Siegerrebe

Spotlight: Unique fruit wines crafted from local produce.
Vancouver Island: Island Grapes, Oceanic Vines
Geography: Located off BC's southwestern coast.
Sub-GIs:
Climate: Maritime, moderated by surrounding mountains and ocean.
Key Varieties:

Reds: Pinot Noir, Marechal Foch
Whites: Ortega, Pinot Gris

Spotlight: Wines with a mineral undertone, reflecting the island's terroir. The Cowichan Valley, in particular, offers an excellent microclimate that fosters wine production.
Gulf Islands: Archipelago of Aromas
Geography: Between Vancouver Island and the mainland.
Climate: Moderate maritime.
Key Varieties:

Reds: Pinot Noir, Merlot
Whites: Pinot Gris, Ortega

Spotlight: Each island offers unique flavors and profiles due to microclimates.
Thompson Valley: The Northern Frontier
Geography: North of Okanagan, along the Thompson River.
Climate: Cool-to-moderate.
Key Varieties:

Reds: Merlot, Cabernet Franc
Whites: Riesling, Chardonnay

Spotlight: Potential lies in aromatic white wines.
Kootenays: Artisanal and Adventurous
Geography: Southeastern BC.
Climate: Cool, continental.
Key Varieties:

Reds: Pinot Noir, Marquette
Whites: La Crescent, Gruner Veltliner

Spotlight: Artisanal production methods resulting in unique flavors.
Lillooet: The New Kid on the Block
Geography: North of the Fraser Valley.
Climate: Hot summers and cold winters.
Key Varieties:

Reds: Merlot, Cabernet Sauvignon
Whites: Riesling, Pinot Gris

Spotlight: Wines are robust, reflecting the region's intense climate.